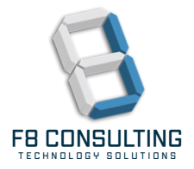 Personalized Training
Show your team how to leverage your data's power
F8 Consulting can help you and your teams find clarity in your frantic fundraising environment through personal, customized training services. Both in-person and virtual training are available.
Your data offers enormous potential. Yet many staffers aren't properly trained in all the ways your technology can harness your data's power. F8 can fix that.
Training from F8 Consulting can help your team more efficiently handle tasks such as:
Day-to-day database entry and reporting needs​
Gift processing
​​​​Planning, organizing and managing fundraising events
​​​​​Developing best practices, policies and procedure creation
Moving forward in ongoing projects that have stumped your team
OPERATIONAL EXCELLENCE IS PARAMOUNT TO RETURN ON TECHNOLOGY INVESTMENTS. F8 PARTNERS WITH OUR CLIENTS TO DELIVER RESULTS.